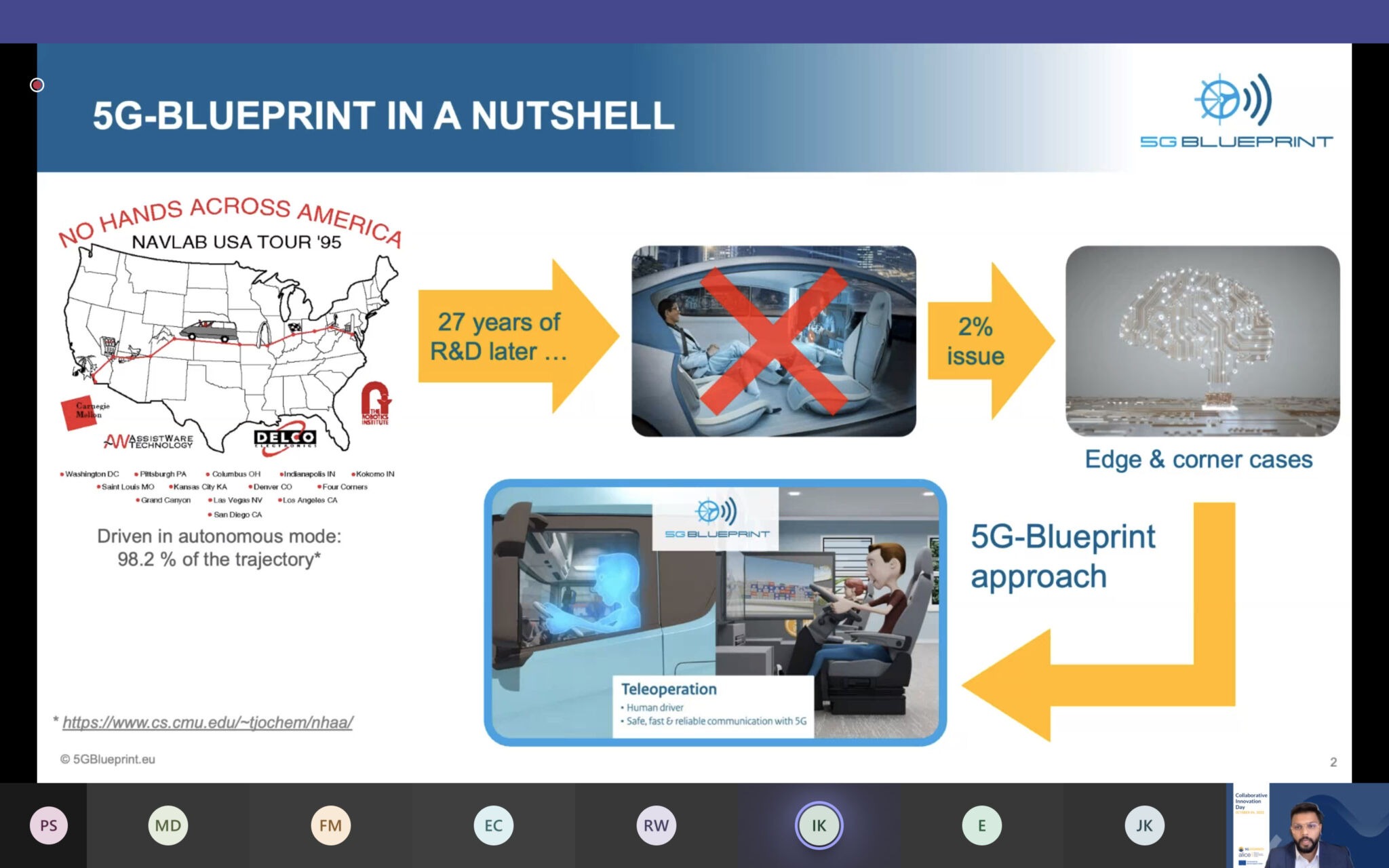 On October 4, 5G-Blueprint was part of the rich programme of the online event Collaborative Innovation Day, organised by fellow EU-funded project 5G-LOGINNOV and ALICE, the Alliance for Logistics Innovation through Collaboration in Europe.
Collaborative Innovation Day was designed to provide exposure to main 5G applications for logistics processes, as well as an overview of the main developments in the field by companies and leading edge European Research and Innovation projects, in an ever-closer moving landscape to a super-connected, 5G-enabled world for individuals and objects. The event also aimed to emphasise that the research and innovation ecosystem revolving around 5G are building blocks of our digital economy and society in the next decade, representing a key asset for Europe to compete in the Global market.
5G-Blueprint took the stage during the showcase session "H2020 Projects at the forefront of 5G developments: driving technology innovation in transport & logistics", alongside other three projects exploring connected innovation avenues (5G-LOGINNOV itself, VITAL-5G and i-NGENIOUS). Rakshith Kusumakar, Chief Technology Officer at 5G-Blueprint partner V-Tron B.V. offered an overview of the project's achievements and objectives to an audience of over 70 participants connecting to the event, also presenting the recently released video on the 5G-Teleoperation on-site demos.
You can download the slides here (PDF) and watch the video on 5G-Blueprint on-site demos here
"To see what 5G-LOGINNOV has been working on – and the variety of their use cases in different ports – was very interesting: it's evident that many of the use cases being piloted can be interlinked with the 5G-Blueprint ones – for instance the use cases on optimal selection of yard trucks and surveillance cameras/video analytics. Overall, the presented results of the other 5G projects under the 'Horizon' umbrella show big potential to create an ecosystem for safe and sustainable logistics solutions in the future," Kusumakar stated.
The session was recorded and can be watched here below:
A recording of the entire event is available here, in form of a playlist.