On Friday 13 November 2020, the US National Institute of Standards and Technology (NIST),  has organized the "NIST Vehicle Teleoperation Forum", a full day virtual event designed to bring together leaders from the industry, academia, and government agencies to discuss the challenges, opportunities, and potential paths forward in vehicle tele-operation.
The forum presenters delivered their views on the future of automated driving and vehicle tele-operation, the roles of cloud computing and 5G in vehicle tele-operation, and the key challenges to be addressed.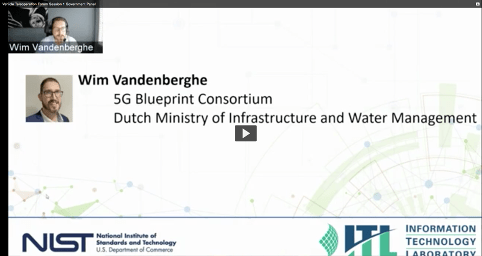 The Dutch Ministry of Infrastructure and Water management, represented by Wim Vandenberghe, 5G-Blueprint Project Coordinator, took part in the Government Panel of this forum.
After introducing the project to roughly 200 online participants, Wim very briefly shared further insights in the motivation for a national road authority to take interest in the domain of tele-operation.
 "The role of the Public Authorities is to facilitate and stimulate further research and development and deployment based on 5G-Blueprint outcomes for mrtek take up" said Wim Vandenberghe
Recordings of all sessions of this forum, including the Government Panel, have been made available by NIST on www.nist.gov/news-events/events/nist-vehicle-teleoperation-forum