On 6 November 2020, 5GPPP hosted a two-part webinar on Cooperative, Connected and Automated Mobility bringing together the ICT-18-2018 5G PPP projects results and the new ICT-53-2020 projects just started.
Dr. Jorge Pereira, from DG CONNECT European Commission kicked the event by presenting an overview of European state of the art and future development of the collaborative network of cross-border corridors between European countries enabling a seamless provision of 5G coverage.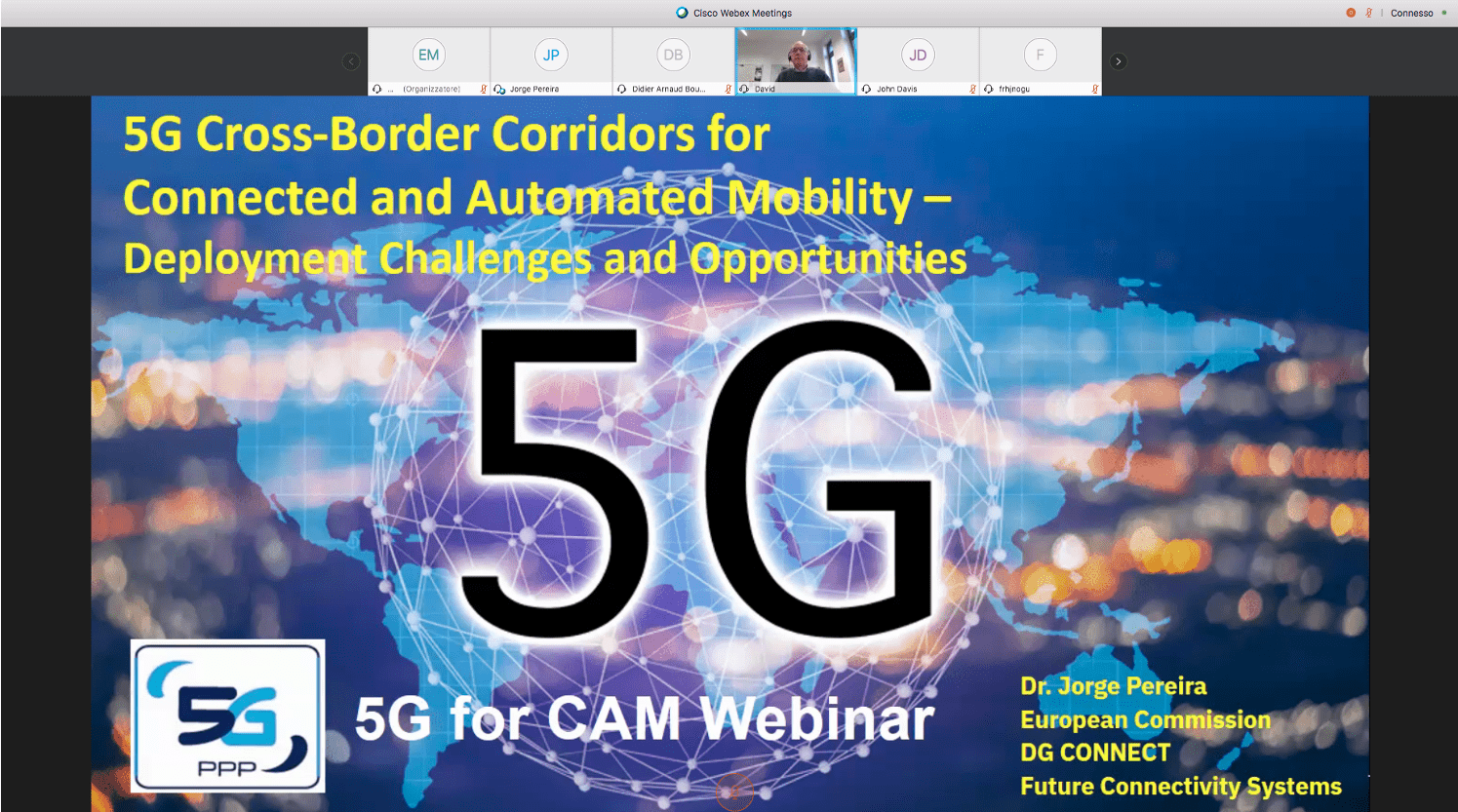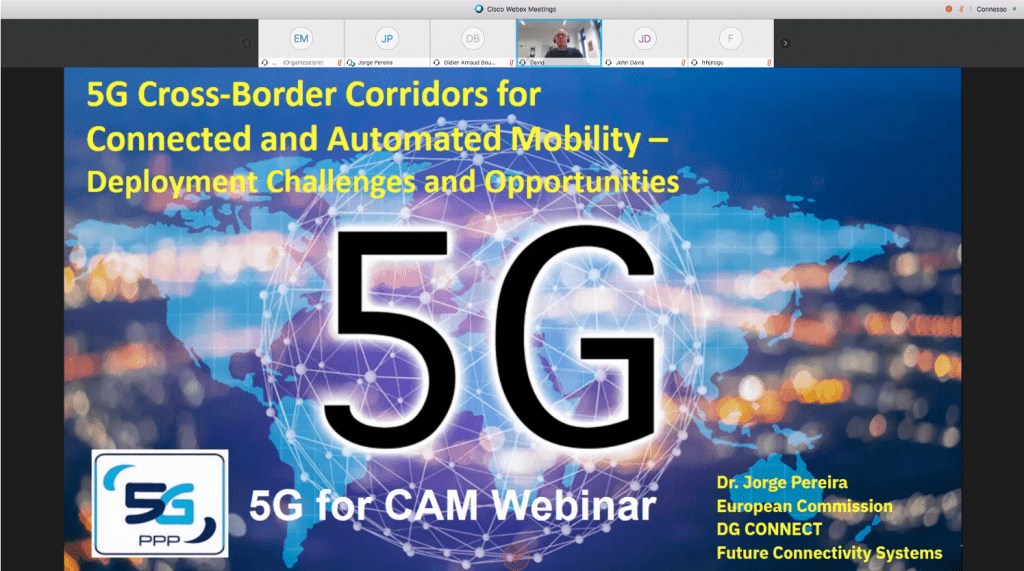 The first part was dedicated to the ongoing activities on CCAM and to the white paper: "5G Trials for Cooperative, Connected and Automated Mobility along European 5G Cross-Border Corridors – Challenges and Opportunities" produced by the three 5G PPP corridor projects: 5G-MoBiX, 5G-CARMEN and 5GCroCo.
The white paper contributes to the EC action plan for the roadmap for public and private investment into 5G infrastructure along the main EU transport paths, to enable a series of advanced Cooperative, Connected and Automated Mobility (CCAM) use cases and services across Europe.
It introduces the scope, use cases, trial sites and particularities of each of the three corridor projects and identifies and elaborates on the main concerns and challenges arising from deploying advanced CCAM use cases at regional borders from technological, administrative, security and legislatorial point of views.
The joint effort from the three projects, allowed to identify and categorize the cross-border challenges and presents their preliminary results, based on currently available technological enablers.
Panelists
5G-MOBIX: Kostas Trichias, WINGS ICT Solutions
5G-CARMEN: Andreas Heider-Aviet, Deutsche Telekom
5GCroCo: Antonio Fernández Barciela, PSA
The second part presented to the audience the newly started CAM related Projects under the 5G-PPP ICT-53-2020 call: 5G-Blueprint, 5GMED, 5G-ROUTES and 5GRail.
The ICT-53 call aims at validating 5G for CAM in the wider techno-policy context starting from 3G PP release 16. The validation is foreseen on the latest available 5G specification in the context of innovative CAM applications under realistic conditions and seamlessly functioning across borders. Moreover, the projects are expected to bring broad innovation perspective covering use cases in the vehicle-to-vehicle (V2V), vehicle-to- infrastructure (V2I), vehicle-to-pedestrian (V2P), and vehicle-to-network (V2N) domains including the supporting service infrastructure, core technological innovation expected from 5G, such as radio, RAN and core network.
These are the challenges that the four selected projects are expected to deal with.
This webinar provided not only an opportunity to present an overview of the project's objectives, challenges, use cases and plan but also to share experiences and start a fruitful collaboration among the projects.
Johann Marquez-Barja from imec and our technical Coordinator said: "5G-Blueprint will provide a blueprint, a guidance on the lessons learnt on technologies, business and regulations that enables 5G cross border Tele-operation"
Presentation available here (PDF)
Panelists
5G Blueprint: Johann Marquez-Barja, imec
5GMed: Raül González Prats, Cellnex Telecom
5G-ROUTES: Urmas Ruuto, Ericsson
5GRail: Jean-Michel Evanghelou, UIC