15th ITS European Congress

15th ITS European Congress
The ITS European Congress, the largest event entirely dedicated to smart mobility and digitalisation of transport is organised by ERTICO – ITS Europe.
The ITS European Congress is part of a bigger cluster of ITS Congresses. It is organised in a European city in the years where there is no ITS World Congress in Europe. The ITS World Congress rotates between Europe, the Asia Pacific region and the Americas. For all European Congresses, ERTICO and its Partners work closely with the European Commission and the host city to deliver an outstanding event built around three pillars:
-International Programme sessions and presentations with top speakers from the industry
-Demonstrations of the current transport technologies developed and deployed throughout the world
-Exhibition of cutting-edge companies
These events are a strategic opportunity for the transport industry to come together and show the latest innovations, with a slightly different focus for each year. The Congresses display the host city's latest achievements in the field of intelligent mobility services, supporting the hosts in increasing the awareness of the importance of new solutions and investments in the host region and country.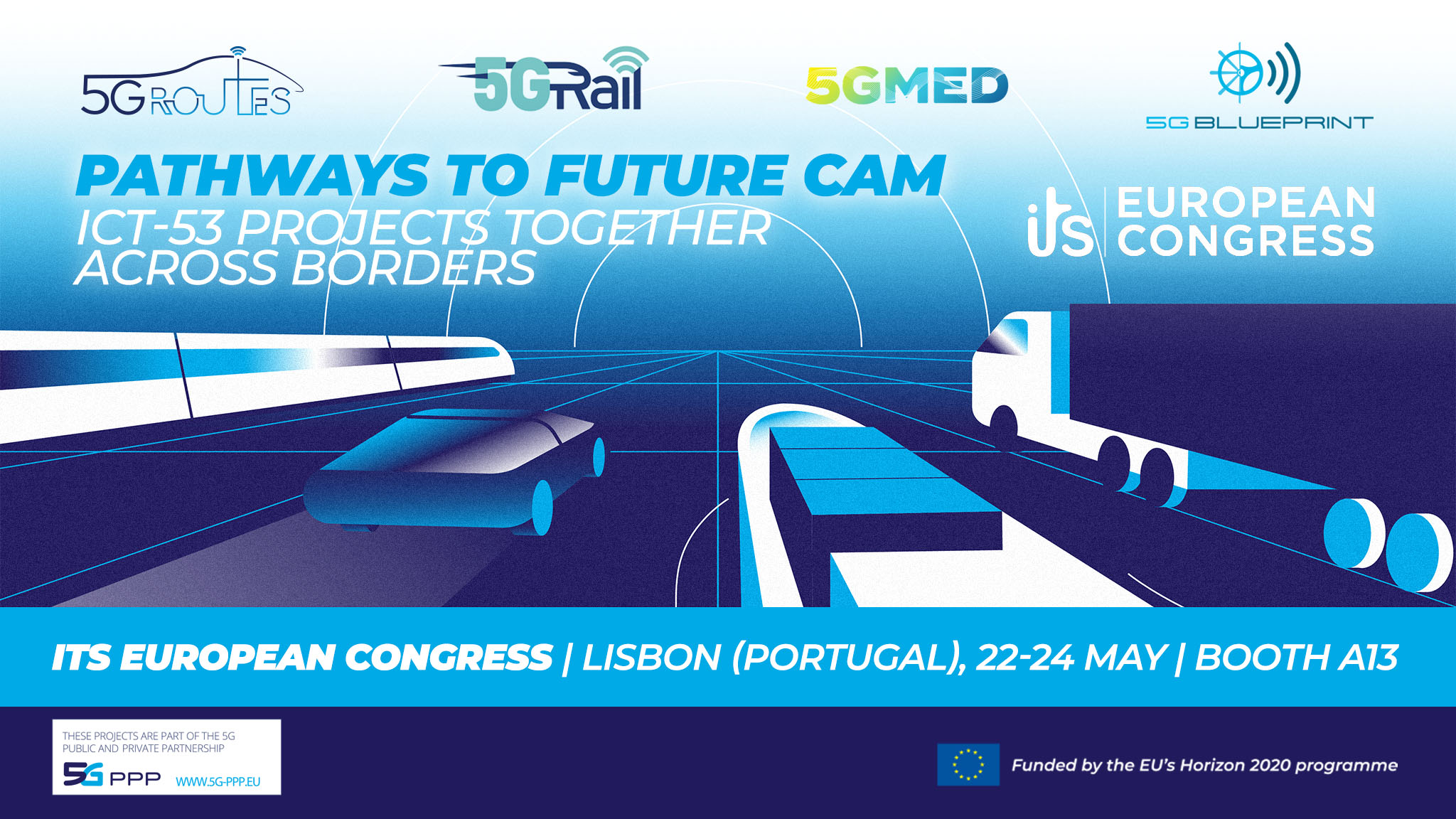 5G-Blueprint will be present at the event with a collective booth, shared with fellow Connected and Automated Mobility 5G-PPP ICT-53 projects 5GMED, 5GRAIL and 5G-ROUTES – Make sure to stop by Booth A13!
In addition, 5G-Blueprint will take the stage of 3 different sessions at the congress, alongside fellow initiatives and projects:
SIS 11: Driving towards realizing seamless automated cross-border mobility | May 23, 10:30 – 11:30 | Lisbon Congress Centre, Auditorium 2
SIS 18: Driving towards realizing seamless automated cross-border mobility – Part 2 | May 23, 11:45 – 12:45 | Lisbon Congress Centre, Auditorium 2
SIS 33: 5G based logistics: business challenges and new opportunities | May 23, 15:15 – 16:15 | Lisbon Congress Centre, Room 1.5
Link to the full conference programme
For more information: https://2023.itseuropeancongress.com/